Posted: November 22, 2021
S'Not the Season to be Sick!
As the holidays arrive, the Summit County Health Department is reminding residents and visitors that cold and flu season is upon us once more, in addition to the ongoing COVID-19 pandemic. To have a happy, health holiday experience, the health department has created a holiday-themed campaign to keep residents and visitors off the "Snotty List." We will provide all signage and marketing materials at no cost for any organization that will help us promote this campaign. Materials will be delivered to you Monday – Wednesday, November 22 - 24 so they can be posted before the Thanksgiving Holiday. Reply to this email if you would like to participate.
Tips include:
Hand-washing.
Sanitizing and avoiding high touch "virus wonderland" surfaces in public places and at parties or in the home.
Understanding situations when wearing a mask may still be appropriate.
Protection from seasonal influenza and coronavirus through vaccines.
Staying home when you're sick.
With the support of local municipalities, schools, businesses, retailers and restaurants, the campaign will educate the public through entertaining signage placed in entryways, bathrooms and break rooms. ." See the graphics below for a sample of the marketing materials. (finals available in English and Spanish). SnottyList.com is currently redirected to summitcountyhealth.org but will be a separate landing page by campaign launch next week.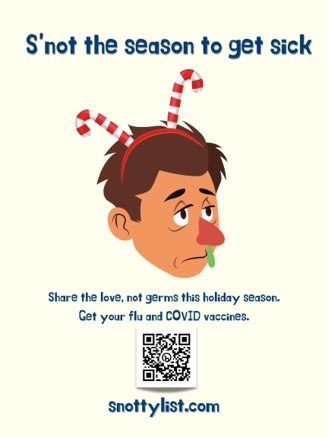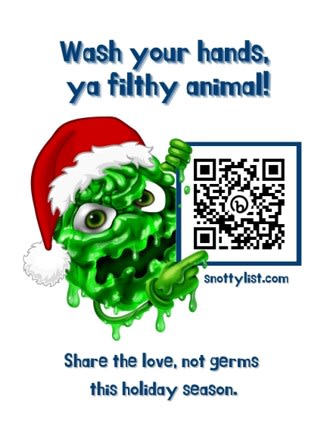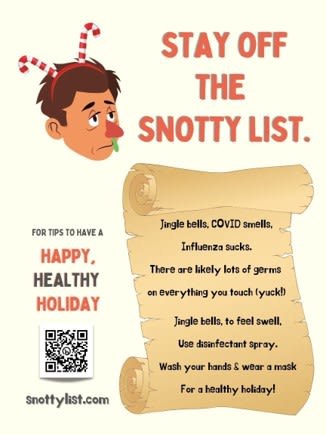 Summit Health