5 Park City Take Out Options Perfect for a Home Movie Night
Sundance Film Festival helped establish Park City as an art film mecca. Organizations like Park City Film continue to showcase our love of independent films with city-wide events like the virtual movie nights, which have made our time at home a little bit easier. If you're looking for some dynamic takeout meals to pair with your virtual viewing experience, we've got you covered. Keep reading to learn about five exciting restaurants offering curbside dining in Park City that act as perfect dining choices for a movie night in.
1. Fuego Pizzeria and Bistro
2001 Sidewinder Dr., (435) 645-8646
When Parkites want classic Italian comfort food, we head to Fuego Pizzeria and Bistro. While their restaurant has reopened for dine-in guests, you can still get their gourmet eats for pick up. What should you order? We recommend getting one of their famous wood-fired pizzas for takeout. For a creative twist on a traditional pie, try the Wasatch pizza. It's a delicious combination of house-made honey tomato chipotle sauce, gooey Mozzarella, pancetta, fresh pineapple, and cilantro, and it's unlike anything you've ever tried! For a great date night at home over a rom-com, order their Burrata ravioli stuffed with creamy cheese and finished with a tomato-cream sauce. What's more? Fuego offers weekly specials and easy online ordering!
2. Old Town Cellars
890 Main St., (435) 649-3759
What's a perfect addition to Park City Film's virtual movie nights? A glass of locally made vino from Old Town Cellars, of course! This private label winery produces some of the best bold reds and easy-sipping whites around. Need a recommendation? Their Mountain Town White is a refreshing blend of Riesling, Grüner Veltliner, and Viognier. For a true summer drinking wine, try the Townie Rosé. With their winery and bar now open, you can sip your way through their tasting list and take home your faves, like their Perpetual Pinot Noir. This massive bottle comes in a 1.5-liter magnum, guaranteed to last through your entire movie marathon!
3. Windy Ridge Café
1250 Iron Horse Dr., (435) 647-2906
A Park City staple, Windy Ridge Café is where locals go for casual comfort foods and decadent desserts. Their full dinner menu is available for pickup, so you can enjoy a chef-prepared meal and stream an art-house flick all from the comfort of your home. Their Southwest corn chowder combines sweet, fresh corn with smoky chile for a rich first course or can act as a main meal. For all the meat lovers out there, order their dangerously good BBQ bacon meatloaf, slathered in their famous BBQ sauce and served with braised greens. Don't forget to save room for dessert! Grab a slice of their Mile High apple pie and their buttery croissant bread pudding, topped with warm butterscotch sauce for the perfect indie movie pairing.
4. Riverhorse Provisions
221 Main St.,
(435) 649-0799
Located in the historic Imperial Hotel, Riverhorse Provisions is equal parts specialty market, cafe, and deli all rolled into one. This "gourmet on the go" spot offers artisanal fare with the ease of eating what order at home. You can get takeout from Riverhorse Provisions' online menu and quickly pick up your meal from the storefront. While you can never go wrong with their Provisions' Burger with cheese, bacon, lettuce, tomato and truffle mustard aioli, definitely check out their weekly family dinners. A perfect addition to your virtual movie night, these rotating meals serve four and showcase the best of Riverhorse cuisine, making them ideal for families.
5. LUNA's Kitchen
1400 Snow Creek Dr. L., (435) 731-8383
LUNA's Kitchen, formerly Element Kitchen and Bakery, serves up some of the best organic and vegetarian food in Park City. Their expansive curbside menu offers everything from brunch, to vegan options and grass-fed beef. What's more? A variety of their menu choices let you upgrade to family-style portions. While everything here is a must-order, a few of our favorites include the peppery greens salad with pickled shallots and manchego cheese, and the braised Niman ranch short ribs with garlic mashed potatoes and roasted Brussel sprouts. For gluten-free lasagna lovers, definitely check out the veggie or grass-fed beef "lasagna" that uses eggplant instead of pasta sheets.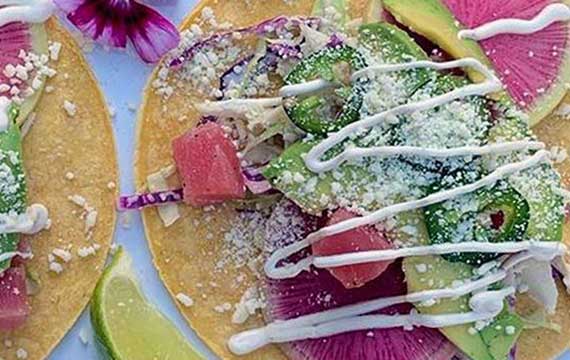 Make the Most of Your Virtual Movie Night in Park City
With a wealth of Park City cuisine available for curbside pickup, it's easy to find an epic meal to enjoy at home while watching a critically acclaimed movie from the list offered by the Park City Film crew. Are you looking for even more pickup friendly menus? Visit our website and search by takeout or curbside to discover your new favorite restaurant in Park City.