The Best Park City Restaurants for Grilled & BBQ Eats
It's summertime, which always means one thing: barbecue season in Park City! In addition to being a sought-after summer fun destination, our town is also famous for high-quality local produce and esteemed ranches.
Whether you are firing up your grill and want the best meat around or are looking for classic BBQ flavors from Park City restaurants, we compiled our favorite spots for getting your hands on some summer-inspired eats.
Ultimate Guide to Park City BBQ Restaurants
Park City, Utah's cuisine knows no borders! That means you can partake of fine-dining spins on Southern classics to Latin-inspired BBQ plates. Want to barbecue at home? Park City has farm stands showcasing premium products as well. There's a world of flavors to discover!
Best Backyard Cuisine with High-End Twist
Located in the luxurious Hotel Park City, Bandannas Bar & Grill pairs exceptional cuisine with rustic vibes. Their interior features comfy booths, western decor, and a quaint bar.
Outside, their patio boasts mountain views and tables lining the golf course. Bandannas is where hotel guests, visitors, and avid golfers go for a juicy burger, stacked sandwich, and more!
A Taste of Summer: Starting in June and running until Labor Day, Bandannas offers their epic weekend BBQ menu.
While "award-winning" and "fine dining" might not be the first phrases one would associate with grilled eats, Royal Street Cafe begs to differ. Their high-elevation, high-concept restaurant features impeccable, innovative takes on backyard favorites.
From Wagyu brisket sandwiches with house-made pickles to Dungeness crab towers and Niman Ranch pulled pork, their entire menu is a creative homage to summertime feasts.
A Taste of Summer: McHenry's cheeseburger with bison patty and bacon is a must-eat. Seriously, this sophisticated burger has won awards.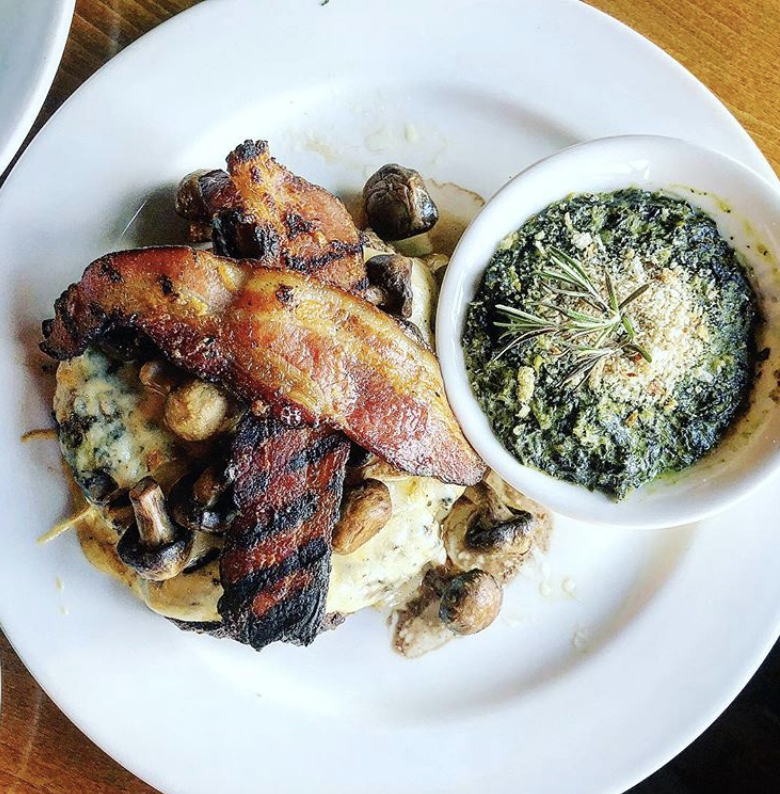 Celebrated Classic Park City-Style BBQ Establishments
Famous for choice steaks and fresh fish, Grub Steak Restaurant also boasts killer grilled options that evoke summer BBQ flavors. You'll find Park City favorites on their expansive menu, like elk sirloin with poached peach, 40oz charred rib eye, and charbroiled salmon.

A Taste of Summer: If you are looking for classic BBQ eats, order their baby back pork ribs slathered in Grub Steak's signature BBQ sauce.
Part roadhouse Mexican joint, part burger house, and 100% Park City, Billy Blanco's serves perfectly grilled burgers and classic southwestern staples. The eclectic menu showcases three different burgers, tacos galore, BBQ ribs, and refreshing salads.
A Taste of Summer: Their Tejano smoked short rib tacos, with escabeche and red chile crema, are a great spin on BBQ-inspired eats.
Want to take your grill experience to the next level? Head to Boneyard Saloon and Wine Dive - two unique dining adventures located in one fantastic building. The majority of Boneyard's menu is charred to perfection on their custom-built, wood-fire grill. Enjoy burgers, blacked salmon, and more! Next door, Wine Dive pours exciting wines from their technologically advanced wine-taps and wood-fired pizzas.

A Taste of Summer: Boneyards' spare-ribs with moppin' sauce is something to savor this summer!
Best BBQ Takeout Restaurants in Park City
Get out in nature and buy some of the best farm-fresh local produce and meats Park City has to offer. Bill White Farms is dedicated to holistic-based agriculture, Earthganic practices, and bettering the environment. If you are looking to support local, and get your hands on some excellent products for your barbecue, stop by the Bill White Farm Stand.
Most Popular BBQ Item: All of Bill White's meat is grass-fed, full of flavor, and perfect for searing on a hot grill.
LUNA's Kitchen is a to-go staple in Park City. If you are looking for a gourmet, last-minute entree or side to bring to your family picnic, their grab-and-go menu has everything you need. You'll find short ribs, braised beans, Carolina-style pulled pork, Alabama slaw, and so much more. Looking for incredible vegan, vegetarian, and gluten-free options for your outdoor BBQ? LUNA's has delicious black bean burgers, zucchini "noodle" pasta salad, and cauliflower rice to name a few.
Most Popular BBQ Item: LUNA Kitchen's house-cured smoked steelhead trout is so smokey and unique that you'll make this a family BBQ item for years to come.
Where to Find the Best Restaurants in Park City, Utah this Summer
From down-home BBQ to innovative cuisine, and everything in between, Park City area restaurants have all your summer favorites. To find even more great establishments offering the best grilled eats and more, visit our website and search by cuisine.
Please note, although Summit County's mask mandate has been lifted, masks may still be required at Park City area restaurants beyond this date until further notice. We kindly ask that diners respect and comply with these requirements.