Craving Game-Day Food? Check Out the Best Sports Bars in Park City!
From March Madness to MLB, spring sports are a time for fun and celebration. We're all hoping we can see our favorite teams play virtually if we can't be there in person. However, no matter what the 2021 sports season brings, there's no reason you can't enjoy your favorite game-day eats any time you want!
We've drafted up our top picks for the best sports bars in Park City.
Best Bar Food in Park City to Satisfying Your Game-Day Cravings
From popular microbreweries to local watering holes, these Park City establishments deliver classic game-day eats! While we wait to see if our hometown Utes will be filling stadiums, we can still celebrate our favorite teams in spirit with these slam-dunk restaurants.
Local Favorites with Home Brews, Cocktails, and Pub Grub
Wasatch Brew Pub: Since 1986, Wasatch has been brewing and pouring some of the best brews in Park City. Locals flock to Wasatch because of their large
TVs, cold pints, and epic eats. What's more? They even have a great patio to enjoy our crisp spring air.
Favorite Bites: House made fried pickles ($10), pulled pork nachos ($15), and Bavarian pretzel with apricot mustard and cheese sauce ($7) are all must-orders. For a dose of fried goodness, get their golden fish and chips ($17), made with beer-battered cod.
Red Rock Junction: This family-friendly joint boasts award-winning beers, spacious dining areas, and classic public house fare. Fun fact: Red Rock's impressive pizza oven was brought over from Italy!
Favorite Bites: Little sports fans will love their gooey mozzarella sticks ($4-$7) and wood-fired pizza ($13). For a more substantial meal, order the buffalo chicken sandwich piled high with bacon, blue cheese, and tomato ($14), or their Kobe beef burger with American cheese and a fried egg (pricing varies).
Flanagan's Irish Pub & Restaurant: If you are looking for a lively watering hole that serves Irish fare, head to Flanagan's, one of Park City's best sports bars. With high-mounted televisions, you can catch a glimpse of the game from many of the comfy booths.
Favorite Bites: Their deep-fried Reuben rolls stuffed with tangy kraut and corned beef ($14) are insanely good. A trip to Flanagan's would not be complete without an order of their Shepherd's pie ($22). It's so perfect you might start adding that dish to future game-day traditions!
Hearth and Hill: Known as one of Park City's favorite gathering spots, Hearth and Hill offers a fresh take on contemporary American cuisine. From seasonal cocktails and sake to an impressive selection of local brews and wines, you'll find the perfect beverage to complement every flavor profile on their stunning menu.
Favorite Bites: Hearth and Hill made a touchdown with their amazing Super Bowl Weekend Snack Pack! It includes Korean chicken wings, crab dip with garlic bread, pork belly lettuce cups, shrimp and rice stuffed poblano peppers, and more. The snack pack is available for takeout from Friday-Sunday ($110).
Sports Bars in Park City with Amazing Views
Red Tail Grill: Sports fans love this high-elevation spot for handmade cocktails and giant TVs spanning the bar. If March Madness gets called off this year, all is not lost. Instead, enjoy exquisite mountain views on their expansive patio and snack on killer game-day eats. Reservations are required and being accepted for parties up to 6 guests.
Favorite Bites: Did someone say chili-rubbed chicken wings? Yes, please! These spicy, juicy wings ($16) are a Park City twist on old school buffalo-style. Served with all the usual fixings, you might want to get two orders. For mighty appetites, gobble up their pork Verde served with creamy polenta and chewy corn tortillas ($22).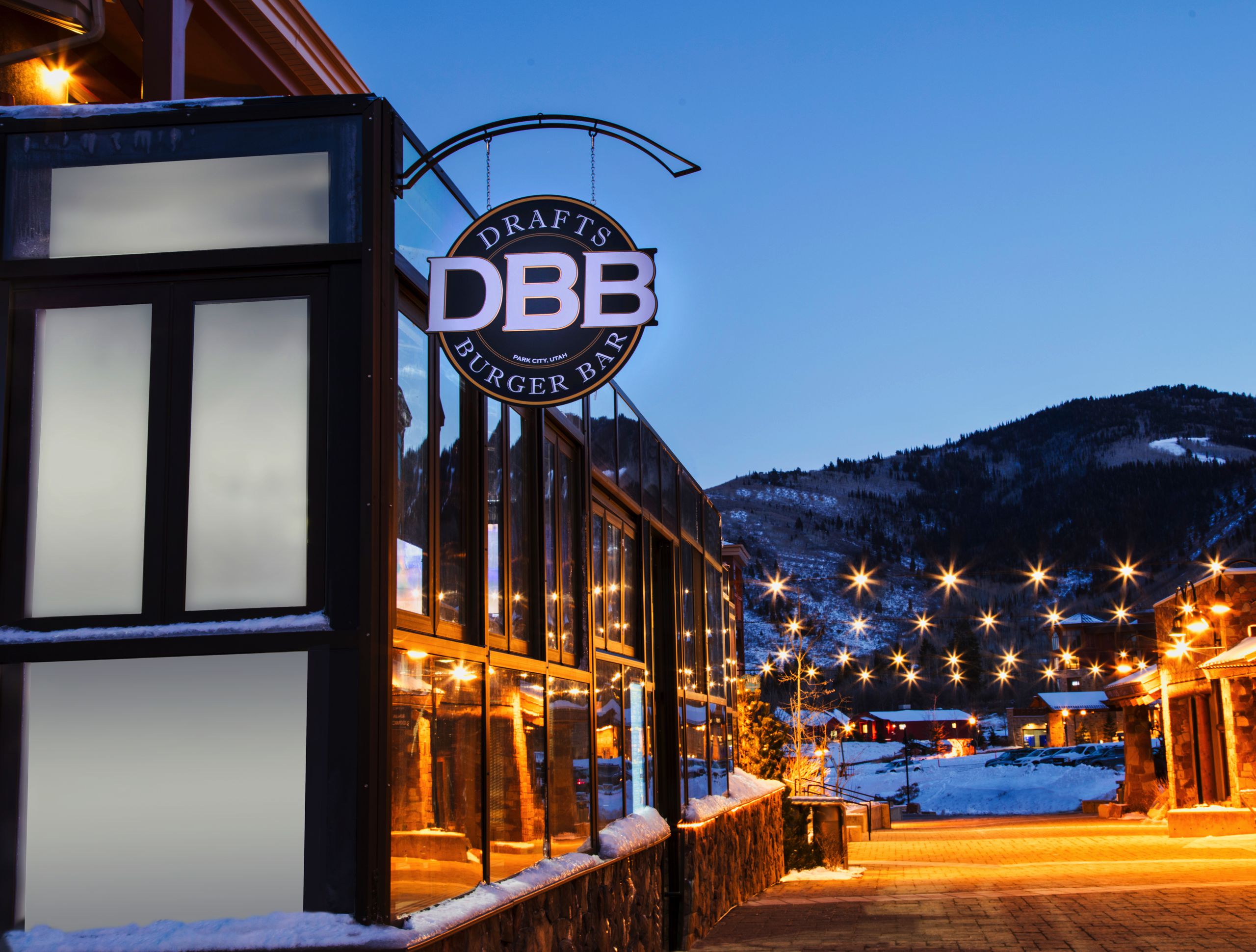 Drafts Burger Bar: Another favorite mountain joint for game-day refreshment, Drafts Burger Bar slings some serious drinks and cooks up a mean burger. Expect stunning views, Alpine decor, and high-definition televisions.
Favorite Bites: All of their burgers are delicious, but the Burgatcho ($16) might be the most outrageous burger ever to exist. It's loaded with smoked gouda, bacon, green onions, sour cream, and, you guessed it, tater tots! You also have to get one of their inventive milkshakes like the Wake Me Up Before You Coco ($12), with ice cream, malt, and decadent chocolate donuts.
The Corner Store Bar & Grill: Located at the base of Park City Mountain Resort, The Corner Store dishes up comfort food in a casual atmosphere. This après-ski spot is also a haven for die-hard sports fans.
Favorite Bites: The BBQ sampler ($28) offers a heaping helping of smoked pork, tender turkey, and chicken wings. For an over-the-top accompaniment, get their Gnar Gnar nachos - lattice cut fries topped with all the nacho goodness ($18).
Restaurants in Park City for Pub Food, Brews & More
Park City has something for every fan looking to nosh on game-day grub. Searching for more bars and restaurants with tailgate-inspired eats? Visit our website and search by cuisine to learn more.