Get the Details on Dine Local, Save Local
We are excited to announce the participating restaurants for the Dine Local, Save Local event! Our list includes an eclectic mix of some of the best spots in Park City, from Asian-inspired cuisine to holiday classics and grab-and-go favorites, making it easy for anyone to join in on the culinary fun and receive a $25.00 gift certificate.
All you have to do is sign up by December 15 and we'll mail you a $25 gift certificate while supplies last. Once you receive your gift card, you can redeem it after spending $50.00 or more on food items (excluding taxes, gratuity, alcohol, and any service fees) at one of the restaurants below from November 27 to December 31, 2020.
Remember, supply is limited and you must pre-register before December 15, 2020 to receive your gift certificate.
Register for a Gift Certificate
Participating Dine Local, Save Local Restaurants
501 on Main: Nestled in the heart of Park City's historic district, 501 on Main captures the sights, the liveliness and the robust flavor of the Park City experience. With seasonal menu selections, fresh local produce and a collection of classic entrees, 501 on Main redefines American regional cuisine.
Bangkok Thai on Main: This downtown favorite boasts fine-dining Thai food prepared with local ingredients. You'll find all the Thai classics, like Tom Kha Gai and Pad Kee-Mao, but Bangkok Thai on Main also serves some surprising dishes like fried sea bass with chiles and roasted duck with lychee red curry. Their dining room is open for lunch and dinner, but you can also call in orders to-go.
Billy Blanco's: Offering an array of tavern and roadhouse Mexican, Billy Blanco's makes you feel like you're in a real working garage. On the menu, you'll find an array of tavern and roadhouse Mexican food choices from barbecued ribs, fried chicken and mashed potatoes, to tasty tacos and delicious enchiladas.
Blind Dog: For fresh-off-the-boat seafood, look no further than Blind Dog Restaurant. Their menu bursts with citrus-forward ceviche, shucked oysters, and just about every type of fish imaginable. If you have some hardcore carnivores in your group, don't worry. Blind Dog also offers choice meat entrees featuring Snake River Farms beef.
Butcher's Chop House & Bar: If being Park City's premier Steakhouse wasn't enough, Butchers Chophouse & Bar also offers one of the most upscale bar and cocktail environments on Main Street. With patio seating and an eclectic menu that includes a variety of meats, game, seafood, vegetarian and children's options, Butchers has become a favorite for locals and visitors.
Café Terigo: Dine locally and enjoy traditional and contemporary Italian cuisine from Café Terigo, a Park City favorite for over three decades. Cross the $50 mark by starting with crispy calamari or charcuterie for two. After, order entrees like grilled salmon salad, smoked chicken fettuccine, and house made capellini pasta to earn your $25.
Chimayo: Festive lighting, wrought iron detail, Southwestern throw pillows in each booth and an authentic Mexican tile floor create the fabulous illusion found at Chimayo. Start with a signature Chimayo Margarita, a local's favorite. Don't miss the dipping sauce that's served with the freshly baked bread.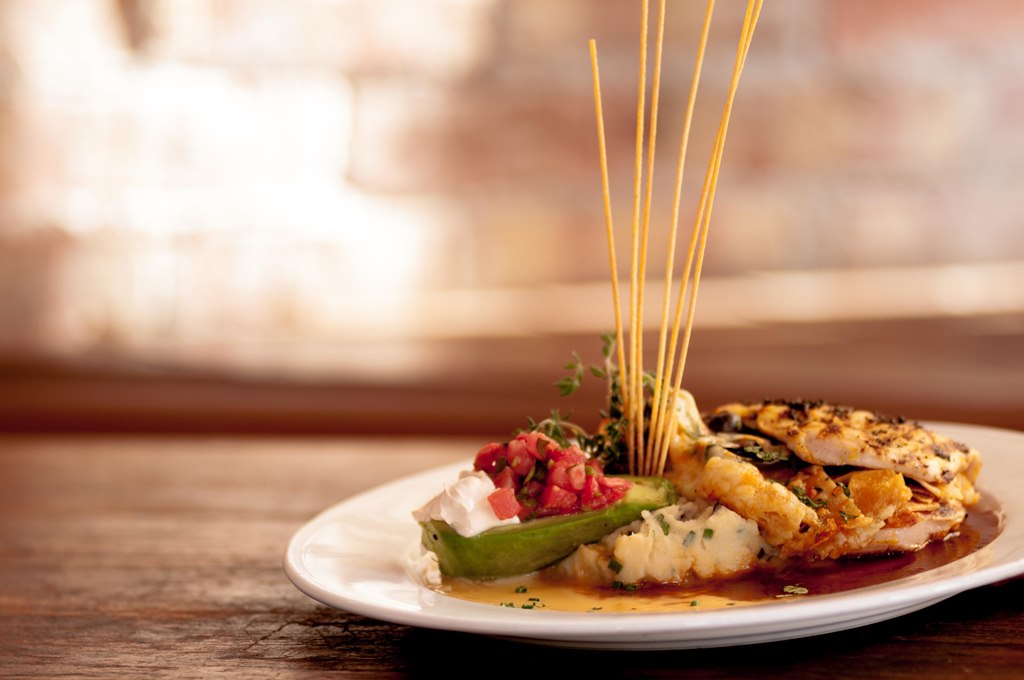 Escala Provisions Company Restaurant & Bar: Dine on plates made with local ingredients or pick up small bites to go from Escala Provisions. This is a great place to eat for families, as they offer a fun kids menu with grilled chicken, pizza, and other kid-approved eats. At the same time, parents can order from a traditional menu that includes a variety of steak and vegetarian options that will satiate all your culinary needs.
Este Pizza: We love taking out of towners to Este Pizza. This hip spot serves New York-style pizza at its best. Including traditional starters like buffalo wings and garlic knots, their menu boasts a wealth of specialty pizzas, calzones, and other choice eats that make it a fantastic option to visit during our Dine Local event.
Flanagan's on Main: Flanagan's features a delicious menu with traditional Irish Fayre. Dishes range from salads and sandwiches, steaks, chops and burgers to traditional entrees like corned beef and cabbage, fish and chips, shepherd's pie and the must try Boxty Dishes. Flanagan's pours a true Irish pint of Guinness as well. Come and enjoy.
Ghidotti's: Blends old world Roman architecture together with a sunny Mediterranean Villa to create a wonderful backdrop for a "Classic Italian" meal at Ghidotti's. Don't expect red checkered tablecloths and candles in wicker chianti bottles; rather you will be delightfully surprised by the rich detail in the design and the attention to every aspect of the food and service. It is our intent to bridge the gap between the traditions of Italian cooking and the metamorphosis the cuisine has undergone since the great immigration at the turn of the last century.
Grub Steak: Park City's beloved steak house, Grub Steak, adds holiday cheer to their menu this winter. In November, you can catch their Thanksgiving menu, loaded with popular dishes like turkey and gravy, autumn harvest stuffing, and pumpkin pie. You can also get their regular menu and their expertly prepared steaks during the Dine Local, Save Local event.
Handle: Visit Handle to dine locally on regionally sourced and finely balanced American cuisine. Try their famous General Tso's Cauliflower, but don't forget to order their rotating autumnal dishes or the mushroom Bolognese. By offering rotating seasonal menus, you're sure to find something new and exciting after each visit.
Hearth and Hill: A locally driven, contemporary American-style menu featuring seafood, meat, salads, vegetarian and vegan dishes, presented in shareable and individual offerings sure to please anyone who visits the Hearth and Hill. Our seating options include a generously sized bar area, private dining room and patio. Come enjoy our weekly live music and a fun, family-friendly environment!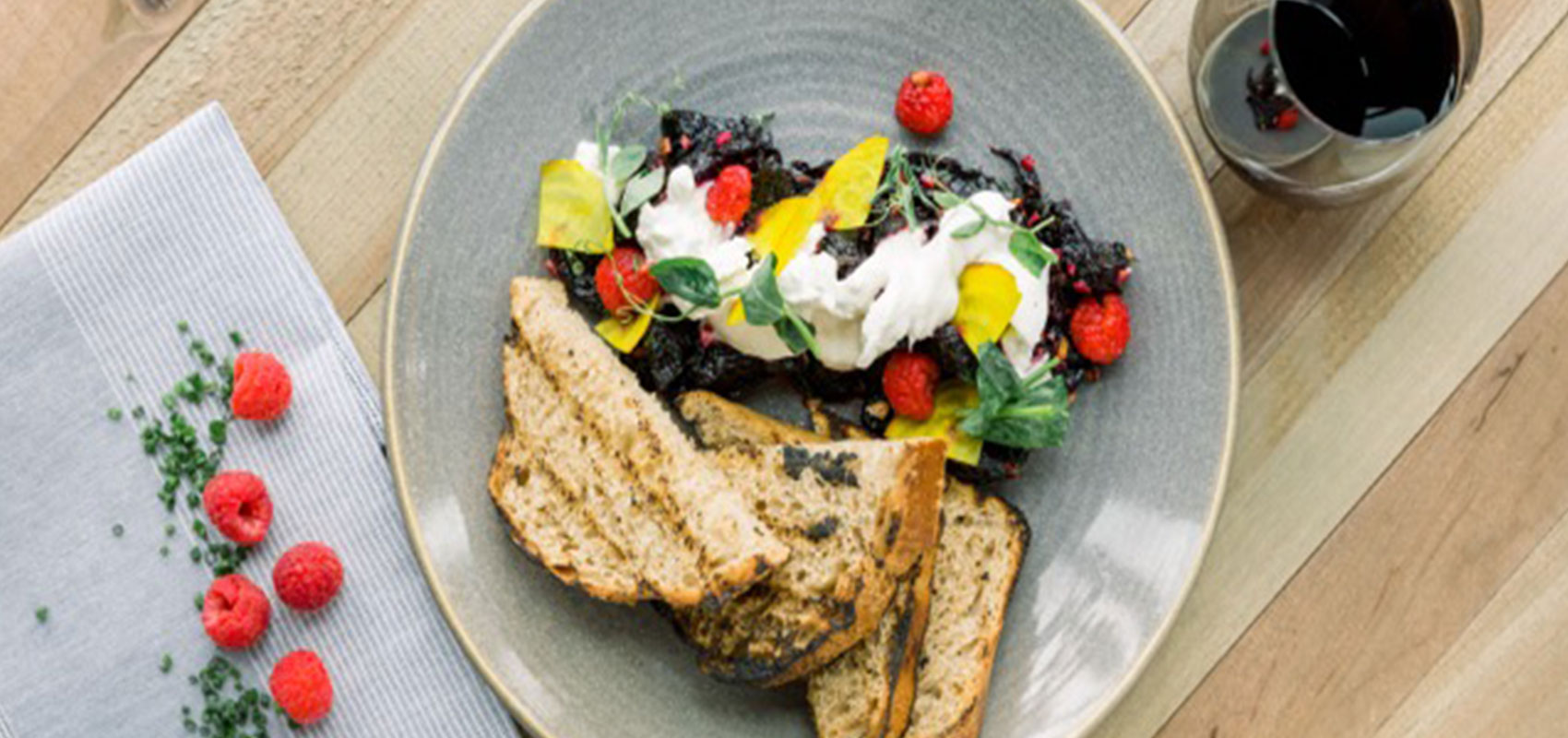 LUNA's Kitchen: Offering quality ingredients and delicious grab and go meals, LUNA's Kitchen serves up gourmet pastries, excellent dinners, and some of the best premade meals in Park City. They also offer a festive takeaway menu, featuring some decadent dessert and creative side dishes, just in time for the holidays!
Park City Provisions: A quaint noshery and gourmet market located in the historic Imperial Hotel at 221 Main Street. Featuring the culinary excellence of The Riverhorse On Main, Riverhorse Provisions' artisanal cuisine will be available through a full deli case, fresh cuts of high-grade meat and fish, breakfast, lunch and après ski menus, crafted coffee drinks, customized gift baskets, and in-home private chef as well as catering services for all of your events. Gourmet grocery items such as fresh produce, dairy products and more will also be available. Needless to say, whether you're an at home chef, stopping in to grab a bite or simply seeking something gifty, consider us your one-stop-shop.
Powder at Waldorf Astoria: Enjoy elevated comfort food inspired by mountain regions from around the world at Powder restaurant. Treat yourself to a mouthwatering seasonal menu inspired by the finest local ingredients at the ideal place to gather for après ski beverages with unique fresh and flavorful menu offerings for the entire family.
Purple Sage: Serving American Western cuisine, Purple Sage is a small and very popular restaurant offering award-winning meatloaf, sugar and chile cured duck, local free range beef, and fresh Utah trout. For those planning on visiting during the Dine Local event, we recommend making a reservation ahead of time.
Riverhorse on Main: The Riverhorse on Main is Utah's only restaurant to receive both the DiRoNA Award and Forbes Travel Guide Four-Star Rating as well as AAA four diamond award. Savor the Prime steaks, scallops and lobster tail or delight in the signature macadamia nut-crusted halibut. Dishes feature farm-to-table fresh, local and organic vegetables and local lamb and wild game. Atrium and patio dining overlooks historic Main Street and mountain vistas.
Shabu: Shabu has received praise for its unique freestyle Asian cuisine that blends the region's celebrated dishes with fresh, global flavors. The menu reflects the very nature of Park City's lifestyle. Just like freestyle skiing or mountain biking that is found in a mountain town, Shabu experiments with creative features to showcase a new innovation or idea. Come experience the tasty food, outdoor dining and ambiance at one of Park City's most creative and distinguished restaurants.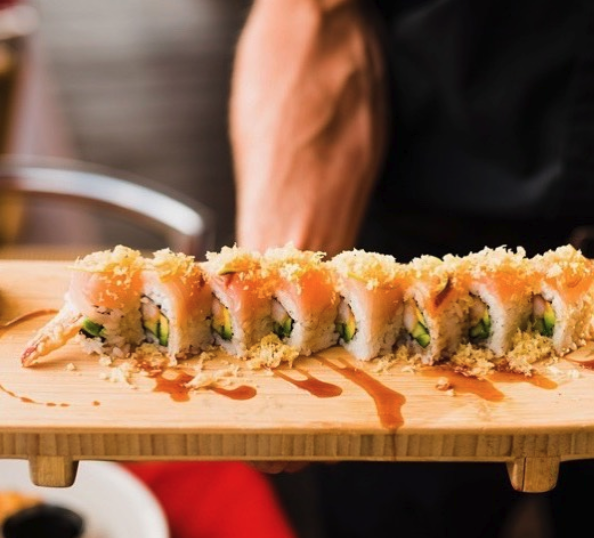 Squatters Roadhouse Grill & Pub: A local staple, Squatters offers a diverse menu of traditional pub favorites in a welcoming atmosphere that makes it a great place to visit during our Dine Local, Save Local event.
Sushi Blue: Sushi Blue offers an eclectic, contemporary atmosphere with an inventive range of cuisines. Enjoy a relaxing group meal at our traditional tatami tables or grab a seat at our beautiful sushi bar complete with flat screens.
Twisted Fern: Real food, the kind that comes directly from plants and animals, is naturally fresh, nourishing, wholesome, and pleasant. At Twisted Fern, we honor the roots of our ingredients and infuse a twist of creativity in a New American atmosphere. We do this out of respect for you and respect for the process. We believe serving minimally processed real food should be the norm, not a catchy pitch.
Versante at Park City Peaks Hotel: Versante Hearth and Bar, located in the charming Park City Peaks Hotel, serves up exquisite Italian fare in a bistro setting. From comforting entrees like chicken piccata to pizza pies piled high with mozzarella, Versante is perfect for a family outing or a cozy date night.
Wasatch Brew Pub: If you're in the mood for a classic burger and a beer, you have to add Wasatch Brew Pub to your list of places to visit during our Dine Local event. Their menu boasts several local favorites like the fish and chips, classic Mac and Cheese, and many other locally sourced pub grub options that make it a Park City favorite.
Windy Ridge Café: Windy Ridge Café is one of Park City's best-kept secrets! It is a convenient alternative to Main Street dining. Windy Ridge is what great trendy comfort food is all about. ingredients, homemade soups, and fast service define this wonderful eatery. Rustic wood furniture adds to the warmth of Windy Ridge. At lunch, locals enjoy the Roast Beef Sandwich with freshly sliced roast beef sliced tomato, Swiss cheese, and horseradish sauce served on an onion roll, as well as the Blackened Tilapia Sandwich. After an exhilarating day of winter sports or people watching on Main Street, relax in an unpretentious setting for dinner.
Yuki Yama Sushi: For a chic restaurant with some of the best sushi around, Yuki Yama is one of Park City's top picks. Their maki rolls are inventive and always prepared with top-grade fish. You can also find other standouts like ramen and an unbelievable selection of rare Japanese whiskey and sake.
Get Ready for Our Dine Local, Save Local Event!
If you want to explore Park City's diverse food scene this holiday season while saving the big bucks, sign up for Dine Local, Save Local today to secure your gift certificate! Participating rules include:
Gift certificates can only be redeemed at participating restaurants between November 27 - December 31, 2020.
Only 1 gift certificate may be redeemed per $50 spent.
Gift certificates can only be used for dine-in or carry-out orders.
Minimum of $50 spent only includes food items and not value added from alcohol, taxes, services, or gratuity.
Gift certificate does not have a cash value.
This deal cannot be combined with any other special offer or discount.
Lost or stolen gift certificates cannot be replaced.
Interested in other holiday food events? Check out our website and search by cuisine to discover even more restaurants in your area! Happy eating!
Register for a Gift Certificate