Get the Details on Park City's 2021 Summer Cocktail Contest
Get ready, bartenders and cocktails enthusiasts! It's time for our favorite cocktail party—Park City's annual 2021 Savor the Cocktail contest! 2021 will mark our 15th year, slinging drinks and coming together to celebrate summer.
While every year has been an epic beverage adventure, this year is bound to be the best so far. Why? Instead of only 30-days of craft cocktails, mixologists get to demonstrate their skills all summer long. That means more libations, more fun, and more chances to win this year's title!
Want to participate in the best summer contest around? Park City Area Restaurant Association has all the details below.
How Does Park City's Summer Cocktail Contest Work?
Starting June 1st, 2021, and running until August 31st, 2021, bartenders and mixologists are invited to create dazzling drinks and battle it out for the title of the best cocktail. In addition to Park City fame, the victorious mixologist will receive a $500 cash prize and a once-in-a-lifetime chance to collaborate with Top Shelf Services for an exclusive Bartender Box.
This contest allows bartenders to flex their creative muscles and patrons to enjoy dynamic libations alongside Park City cuisine!
Don't Miss Out on This Exceptional Experience
Cocktail specialists love participating in our yearly contest. It allows them to push the boundaries of their imaginations and take the cocktail scene to new heights. While each bartender is competing for the win, ultimately, the contest is about camaraderie. That sense of community spirit is felt at every participating establishment and in every masterfully prepared artisan libation.
Patrons of Park City's finest establishments are the real winners, however.
With the extended contest timeframe, guests now have over 90-days to come together, sip on one-of-a-kind concoctions, and toast to our amazing mixologist and restaurant workers. Plus, with contestants shaking drinks from the mountain to Main Street, customers can enjoy a city-wide tour of top bars and restaurants.
Prepare to Be Dazzled By the Best Innovative Drinks in Park City
To give first-time participants an idea of how impressive last year's contest was, 17 exceptional bartenders developed innovative cocktails like:
However, Park City's high-elevation distillery, High West, crushed the competition with Robbie Remmes' Devil's Addition. Drawing on High West's artisan "Double Rye!," whiskey, Remmes combined Tanqueray 10, Cocchi Americano, matcha simple syrup, fresh lemon, pineapple juice, hops tincture, and Fever Tree soda water for a bold summer quencher.
Bartenders Competing in 2021's Cocktail Competition
We are excited to announce this year's craft cocktail creators and their incredible concoctions. From light summer sippers to daring takes on traditional drinks to experimental delights, these libations are sure to be a hit!
| | | |
| --- | --- | --- |
| RESTAURANT | NAME OF COCKTAIL | BARTENDER |
| Alpine Pie Bar | Park City Negroni | Robert Sergent |
| Baja Cantina | Spicy Patron Margarita | Jake McComb |
| Eating Establishment | Cecil Caliente | Drew Congino |
| Flanagan's on Main | The Spirit of Daisey | Juan Jimenez |
| Glitretind & Troll Hallen Lounge at Stein Eriksen Lodge | Lexington Lemonade | Nate Smith |
| Grappa | Disco Fever | Star Finnegan |
| Handle | Handle "Rum" Cocktail | Reagan Chung |
| Hearth and Hilll | Kimball Cactus | Daisy Clark |
| High West Distillery & Saloon | Highbanker | Alex Keller |
| Riverhorse on Main | Tom Cat Sour | Jenna Henry |
| Royal Street Café | Sterling Margarita | Josh Hockman |
| Stein Eriksen Lodge | Lexington Lemonade | Nate Smith |
| Sushi Blue | Sudachi Seducer | Greyson West |
| Timbers Bar & Lounge | Spring View | Felipe "Fele" Castro |
| Versante Hearth & Bar | Botanical Dragon | Marcus Mair, The YETI |
| Windy Ridge Café | PC Rocks | Cimor LaFavor |
Vote for Your Favorite Park City Cocktail Online
By August 31, 2021
With such an impressive array of craft beverages, picking your favorite is no easy task! However, voting itself is a breeze! Between June 1st, 2021 and August 31st, 2021, visit Park City area restaurants from the list above, enjoy a cocktail, and then cast your vote for your favorite.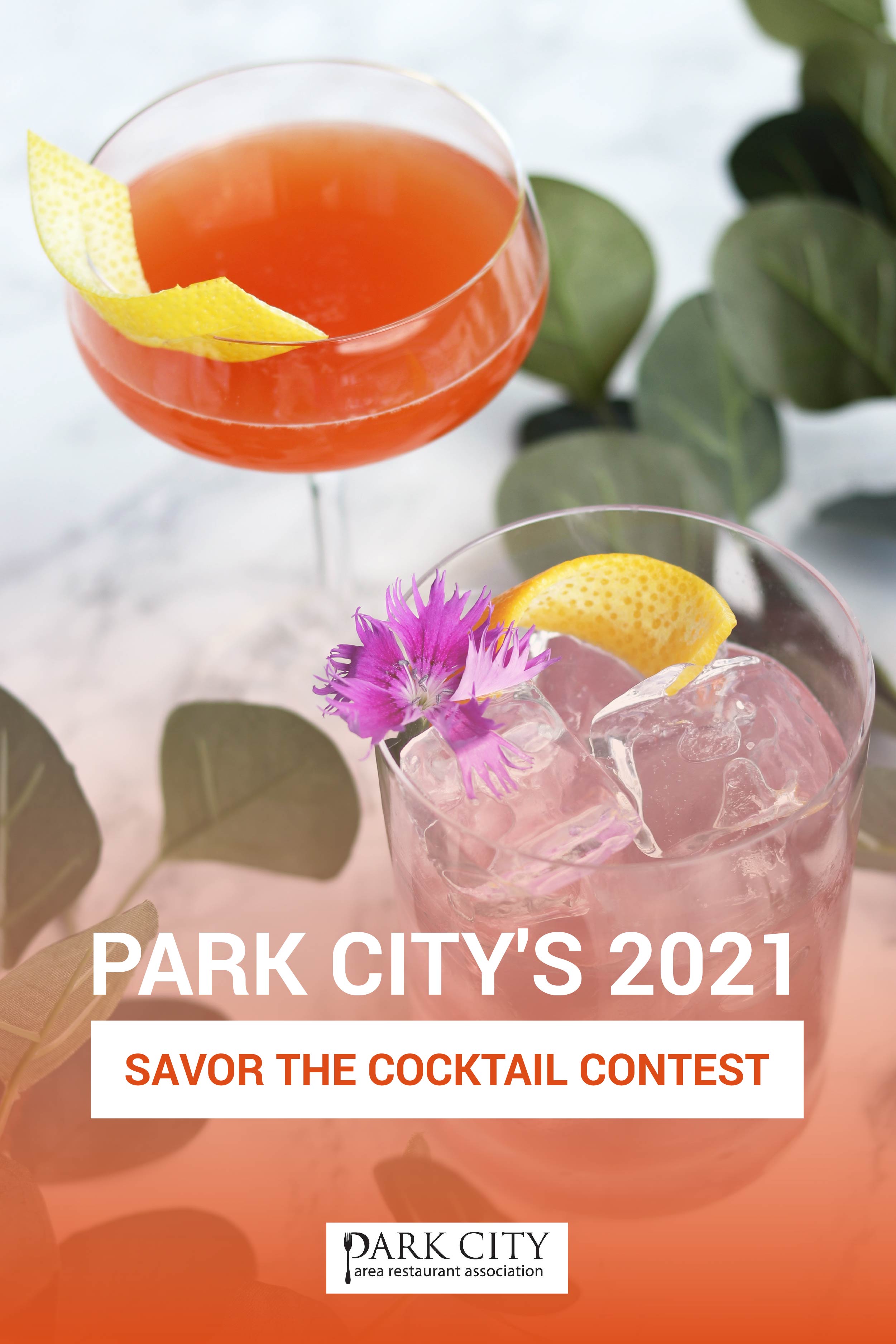 Please note, although Summit County's mask mandate has been lifted, masks may still be required at Park City area restaurants beyond this date until further notice. We kindly ask that diners respect and comply with these requirements.