New Winter Lunch & Dinner Menu
Hearth and Hill "a gathering spot" for Park City locals and visitors, invites guests to indulge in the restaurant's new winter lunch and dinner menus, as well as Sunday brunch and curbside pick-up meals. Options include Hearth and Hill classics, along with new recipes prepared by Executive Chef Jordan Harvey, Pastry Chef Jessie Nakoneczny and Bar Manager Daisy Clark.
"Winter has officially arrived, and with that comes our brand-new menus for the season," said Proprietor Brooks Kirchheimer. "From healthy to hearty, and always delicious, our team has created some incredible offerings to fuel everyone from the casual snacker to the most ravenous après-skier."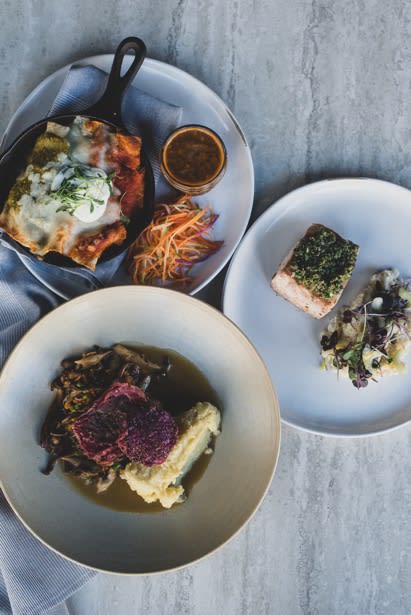 Begin your midday munch with shareables including fresh Hamachi Crudo (puffed rice, daikon, apple, Szechuan peppercorn, citrus emulsion), Pork Gyoza (soy dipping sauce), and Truffle Mac and Cheese (gruyère, bacon, bread crumb, chive), or snack on Foie Butter (everything spice donut, berry mostarda) or Spiced Pecans (rosemary, cayenne). Freshen up with the new Winter Salad (arugula, frisée, beet, quinoa, ricotta salata, squash, walnut, maple vinaigrette) or feast on an Italian Dip (shaved beef ribeye, provolone, giardiniera, as jus, hoagie roll) or a Smoked Turkey Sandwich (bacon, spinach, green tomato jam, havarti, basil aioli, 7-grain bread), whose proceeds benefit the Park City Education Foundation.
Kick off dinner with a shareable Grilled Lamb T-Bone (harissa, tzatziki, salted cucumber) or Country Fried Delicata Squash (poached egg, apple, radish sprout, Alabama white sauce), or start with Beer Battered Cauliflower (Carolina gold sauce, chive, chive oil) or signature Cheddar Biscuits (honey butter, cracked pepper). Savor new mains such as Wahoo (pepita caper relish, smashed celery root, celery heart, sorrel), Short Rib Pastrami (brown butter mashed potatoes, mushroom ragout, fried kraut) and Cauliflower Enchiladas (guajillo chile, tomatillo, Oaxaca cheese, crema, pinto bean, carrot radish salad).
Warm up with a build-your-own Old Fashioned or seasonal cocktails such as Hazy Sky (mezcal, campari, pineapple, orange, demerara, chocolate bitters), Cozy Sweater (bourbon, maple, lemon, orange bitters), Spiced Hot Cider (rum, apple, cinnamon, house-made cider) or a Gin Fizz (gin, chateau monet, rosemary honey, lemon). Sample the new seasonal mocktail, Snape's S'mores (hot cocoa, toasted marshmallow, graham cracker sprinkle) and enjoy the latest flavors of their traditional selections, Boone's Brew (house-made cider, fresh spices, whipped cream), Jack's Juice (limeade, blueberry, pomegranate), and Layla's Lemonade (strawberry, basil seed, thyme).
Take-out Family Dinner for 4 options include Orange Chicken (gyoza, veggie fried rice, soba noodles, peanut sauce, cashews, bok choy), Fajita Night (avocado salad, flank steak, chicken, cabbage, cotija cheese, guacamole, pico de gallo, limes, tortillas, Spanish rice, beans) and Short Rib (mashed potatoes, corn on the cob, white bread, bbq sauce, pickles). Frozen meal items include Homemade Meat or Vegetable Lasagna and savory Cheddar Biscuits. An abundant spread of Sunday brunch offerings is also available weekly from 10 a.m. – 3 p.m.
Current hours at Hearth and Hill are as follows:
Monday – Thursday: 11:30 a.m. – 8:30 p.m., Friday – Saturday: 11:30 a.m. – 9 p.m., and Sunday: 10 a.m. – 8:30 p.m. Reservations for either dine-in or dine-out options, including take-out, free delivery, frozen items, etc. are available online or by calling the restaurant at 435-200-8840.