HIGH WEST RELEASES A MIDWINTER NIGHT'S DRAM ACT 9
Acclaimed Utah Distillery's Highly Anticipated Limited Release Now Available
PARK CITY, Utah (September 29, 2021) — High West Distillery & Saloon, Utah's first legal distillery since 1870, unveils the ninth rendition of A Midwinter Night's Dram, a limited release of High West Rendezvous Rye finished in Ruby and Tawny port barrels. High West continues to bring the adventurous spirit of the American West to the art of making extraordinary whiskeys, experimenting beyond traditional bourbon and rye with new blends and flavor profiles, which translate into a fantastic line of limited-edition whiskeys every year.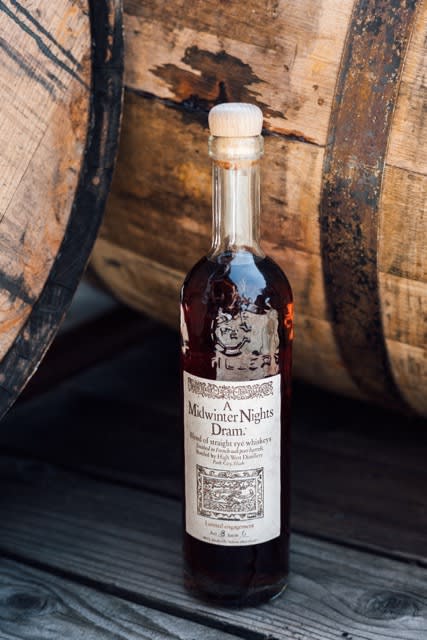 "A Midwinter Night's Dram is easily our most anticipated limited release blend of the year. It's High West's Rendezvous Rye finished in both Ruby and Tawny Port barrels for an additional 1 to 2 years," said Master Distiller Brendan Coyle. "This year's release, Act 9, provides notes of dark fig and blackberry layered over that wonderful spice character that great Ryes have to offer. We recommend sipping this spirit neat to experience its many layers of complexity."
This limited-edition blend of straight rye whiskeys opens with notes of muddled blackberries, honey-poached figs, chocolate covered cherries, toasted marshmallow, gentian root, star anise and hoisin sauce. On the palate, it offers refreshing sugar plums, blackberries, spiced bitter orange peel, toffee cookies aside an orange tea, fresh dates, cinnamon strudel, brown sugar glass, and dried thyme leaves. The finish yields aromatic bitters, pink peppercorn, violets and mint.
A Midwinter Night's Dram Act 9 (49.3% Alc/Vol) will be available beginning October 1st. The spirit can be purchased at High West General Store in Old Town Park City and at High West Distillery on Blue Sky Ranch in Wanship, Utah, for $99.99 per bottle. For more information and where to buy High West products near you, visit highwest.com.
###
ABOUT HIGH WEST
Utah's first legal distillery since 1870, High West's passion is crafting delicious and distinctive whiskeys and helping people appreciate whiskey all in the context of our home, the American West. High West offers an outstanding collection of highly rated whiskeys in finer liquor stores, bars, and restaurants in all 50 U.S. states and internationally.
High West was honored to receive Whisky Advocate's prestigious Distiller of the Year award in 2016. The ultimate authority on whisky said, "High West delivers innovative and delicious whiskeys, expands the definition of what it is to be a distiller, and pioneered a successful new paradigm for craft distilling."
High West's must-visit locations include our High West Distillery in Wanship, Utah, a 30,000 square foot world-class distillery and visitor center featuring educational tours and High West's unique country-western cuisine; and our High West Distillery & Saloon in historic Old Town Park City, the world's only ski-in gastro distillery that was voted "Best Park City Restaurant" by readers of City Weekly. It has received multiple accolades including earning Best Après Ski Bar in Utah by USA TODAY's 10Best being named a finalist in the 2020 Park City's Best Awards for Best Après Ski, a nomination for Best Bar by the James Beard Foundation, and a top-10 ranking on The Daily Meal's list of 150 Best Bars in America.
High West offers an outstanding collection of highly rated whiskeys in finer liquor stores, bars, and restaurants in 49 states throughout the U.S. and internationally.