How to Dine Safely in Park City
We're excited to see our vibrant community reopen and reinvigorated by our returning guests. Whether you're traveling here for a summer vacation, or are a local who can't wait to order from their
favorite lunch spot
, we want to make sure your next restaurant visit in Park City is successful.
So, what can you expect when dining at a restaurant in Park City, Utah as we reopen? The basics are that all restaurants are required to follow
Utah's reopening guidelines
to ensure safe and clean dining for all. This means staff wearing facemasks, additional social distancing guidelines, rigorous cleaning and sanitation measures, or many other rules that protect visitors and employees from the Coronavirus.
Our restaurant community has not only adopted those guidelines diligently, but they're taking additional steps to ensure that our community stays safe in and out of their dining rooms. However, we know that questions surface and additional information might be needed, so we're here to help.
Additionally, Summit County's
Public Health Order
requires people to wear non-medical cloth face coverings over both the mouth and nose whenever indoors in public spaces, and outdoors whenever six feet of separation cannot be maintained.
Here are tips on how to visit a restaurant in Park City as we reopen our community.
Review a restaurant's specific guidelines ahead of time
While all restaurants are following State and CDC
guidelines
to ensure that dining in a Park City restaurant is safe during the Coronavirus, some businesses are taking additional steps to protect our community further. Some of these rules may include additional social distancing measures, arriving at a specific time or the adoption of no walk-in policies. With this in mind, here are a few additional steps to take before dining out or picking up food in Park City:
Call a restaurant before showing up

Review a restaurant's website for guidelines

Check a restaurant's social media profiles for any day-to-day changes
Make a reservation
Making a reservation during the Coronavirus makes the dining experience safer by allowing a restaurant to prevent crowding and control capacity. Reservations also help businesses by allowing them to plan around the number of guests at a specific time or a special menu. Another benefit of reserving a table is that you'll get notified of any changes or cancellations ahead of time.
Keep in mind that some restaurants may ask customers health and safety questions before confirming a reservation. You may also encounter these questions through apps like OpenTable or Resy. Typically these questions are, "Have you been sick recently?" or "Have you met someone with the Coronavirus," or other non-invasive inquiries.
Arrive prepared for walk-in dining
If you're strolling through Main Street looking for a bite to eat, walk-in dining may require more time or preparation. Always remember to bring a mask, maintain social distancing, expect longer wait times and wear appropriate clothing if a restaurant chooses to seat you outdoors. You may also have to wait in your car or away from the restaurant before being seated. Additionally, remember that tables are limited to groups of 10 and that you need to sit six feet apart from each other.

Use curbside pick up
The safest way to experience a Park City meal during the Coronavirus is to order food and enjoy it at home. Fortunately, many of your favorite restaurants now offer
curbside pick-up
as an option for those looking for a great takeout meal. Whenever picking up an order, remember to wear a facemask and practice safe social distancing guidelines.
Visit during slower periods
The best way to avoid crowds or to get a better table during the Coronavirus is by visiting a restaurant during its off-hours. How do you know when a restaurant isn't busy? You can call ahead or visit their Google My Business page to learn about their peak hours to plan your visit around a time that works best.
Try outdoor dining in Park City
Park City has a wealth of incredible restaurants that offer terrific
outdoor dining
experiences. What's more? All summer long, Historic Main Street will be car-free on Sundays, allowing visitors and locals to dine, shop and stroll while enjoying our fresh mountain air from 11:00 AM - 10:00 PM. Remember to practice safe social distancing guidelines and wear a face covering when enjoying our great outdoor patios or going by foot on Main Street.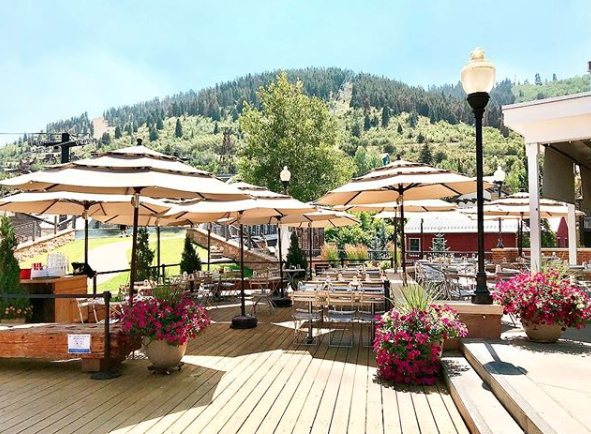 Learn more about Park City's reopening
Remember, Summit County now requires the use of face coverings indoors and outdoors whenever six feet of separation cannot be maintained as we manage the Coronavirus. Keep an eye on our website to learn more about how to dine out in Park City during and how you can support our thriving restaurant community.