Red Banjo Pizza
Celebrates 60 years!
Red Banjo Pizza celebrates 60 years of service to the community, who's doors have been open since Park City's silver mining era.
Not quite old enough for senior discounts, but impressive nonetheless. Red Banjo Pizza has long held the title of Park City's longest-running and family-run business, even further cemented as it celebrated its 60th birthday this month. The Toly side of the family has been in Park City since 1915, and the other side were Mormon Pioneers that came to Park City in the late 1800s.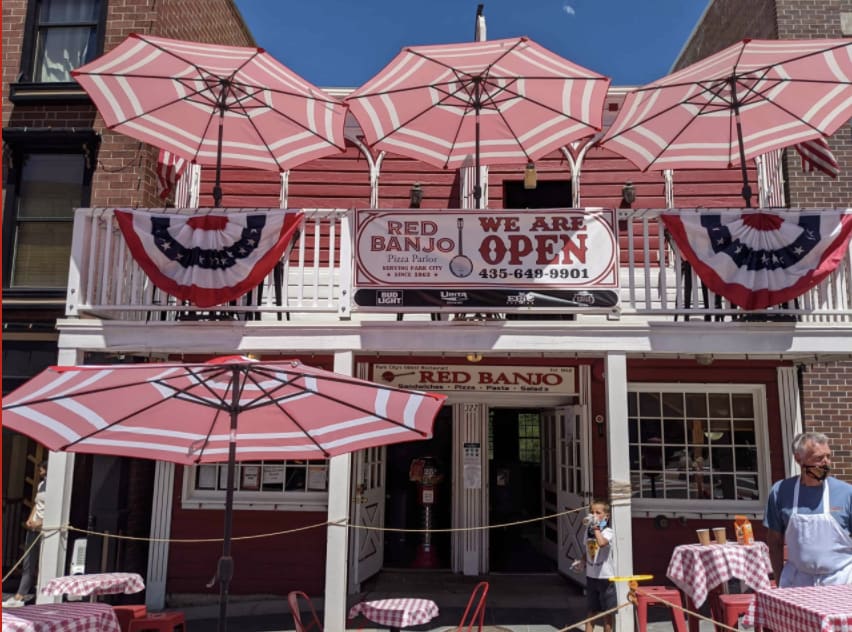 The Toly family has run the saloon-turned-pizza parlor since 1962, when Mary Lou and Pete Toly bought the building from Mike Safianides. According to the Park City Museum, Safianides ran the Park Tavern, a beer hall, for about 28 years and "survive[ed] at least three police raids for illegally serving hard liquor. The most infamous was the April 1955 sweep orchestrated by state and federal officers that netted four taverns, a hotel, and a house of ill repute," wrote David Hampshire with the Museum.
"Red Banjo Saloon opened its doors in June of 1962 as a bar selling 10-cent draft beers," Council Member and Red Banjo co-owner Tana Toly said. "Mary Lou and Pete were graduates of Park City High School and decided to remain in their hometown, which was about 800 people at the time, and tried their luck at running one of the few bars in town. They purchased the building and adjacent rear property; little did they know that they would become Park City's oldest family run business decades later."
When the Red Banjo Saloon was founded during the 60s, it was en vogue to name a bar or restaurant after a color and an instrument, thus the name Red Banjo. "No one can really recall where it came from other than there was a bar in Aspen with the name 'Red' in it, and Pete wanted a name to rival the iconic Aspen Bar, the Red Onion," she said.
In the early 70s, the saloon decided to change specialties and began serving its well-known freshly made pizza, thus becoming Red Banjo Pizza. The restaurant uses family recipes, like the pizza dough made fresh throughout the day, its sweet vinaigrette salad dressing, and homemade chunky vegetable pasta sauce. Notably, all the pizzas (besides the Red Banjo Special) are named after old Park City mines and are served with a lemon, bringing out the pizza sauce's flavor.
The building was built around 1900, and after some renovation in the early 2000s, a mere 100 years later, the Tolys found original hardwood floors. "In one area, there was a horseshoe of cigar burns on the floor," said Toly. "This was from the Prohibition era when there were gaming tables, and men would play around a gaming table and put their cigars out on the floor. The restaurant still has the original bar, bar stools, cash register, hardwood floor, and two doors!"