Antique Gingerbread Display
Stein Eriksen Lodge Unveils Timeless Antique Gingerbread Display
Executive Pastry Chef Jeremy Garcia leads a team of gingerbread connoisseurs to construct this year's much-anticipated gingerbread display at Stein Eriksen Lodge. Guests will have the opportunity to see the antique-style gingerbread creation, adorned with a dozen solid-chocolate nutcrackers all made in-house by our talented pastry team. The sugary exhibit will be placed in the Mountain Lodge by Friday, December 4, 2020. As part of the annual tradition, the display will be accompanied by the ornate 32-foot-tall decorated Christmas tree as part of the Lodge's festive holiday décor.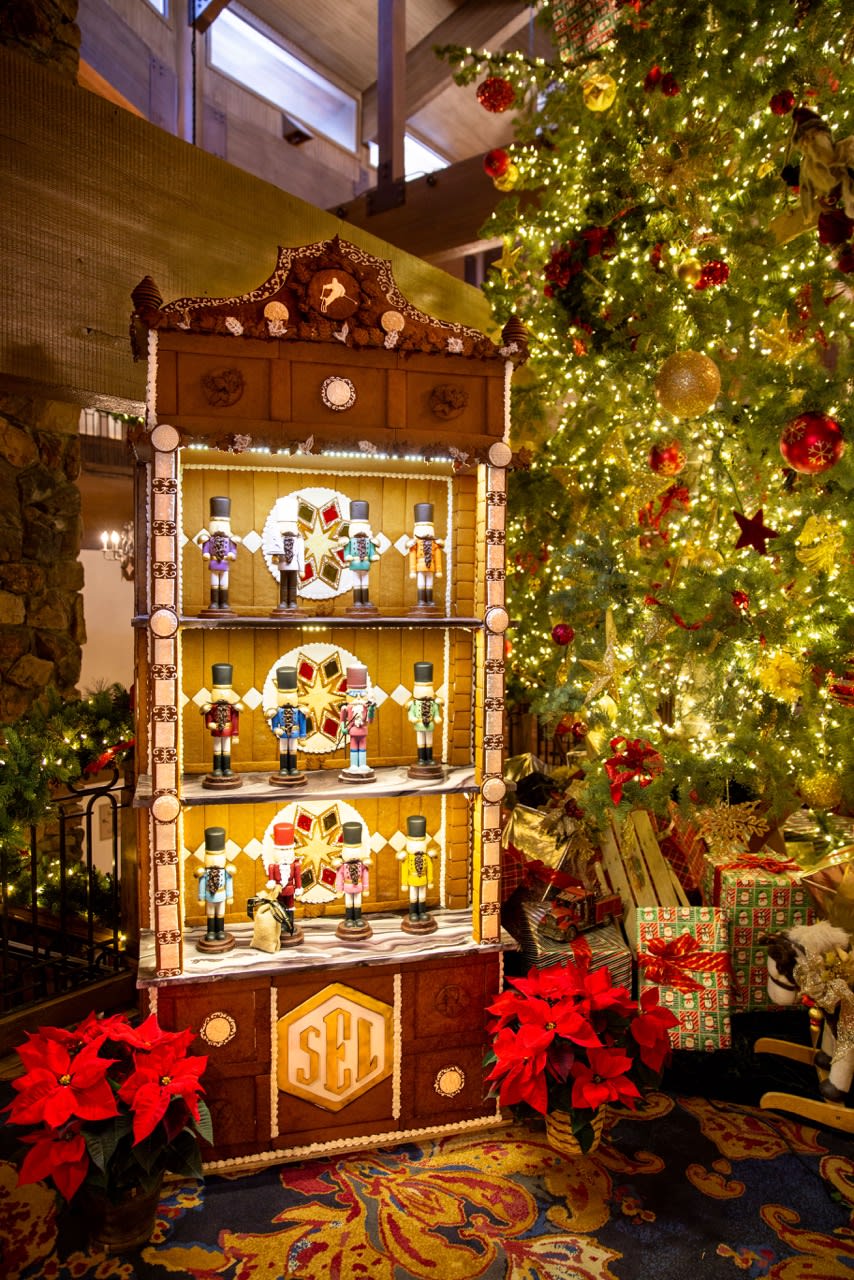 Chef Garcia continues this 19-year gingerbread tradition that Lodge guests look forward to every December. This year's classic design stands 7 feet tall and 3 feet wide, featuring 45 pounds of gingerbread including nearly 60 pounds of royal icing, 15 pounds of fondant, 12 handmade, solid chocolate nutcrackers weighing in at just under 3 pounds each, and a combined total pound of ginger, cinnamon, nutmeg, and cloves. The construction of the gingerbread display and chocolate nutcrackers was created over the course of four weeks by a skilled corps of gingerbread professionals, led by Chef Garcia and Chef Zane Holmquist, VP of Food & Beverage Operations and Corporate Chef. Between the engineering and culinary teams, the display requires approximately 100 hours over the course of four weeks to design, bake, produce, erect, and decorate.
Guests are encouraged to linger and search for the small, hidden gingerbread cookies on the display, including a star, dinosaur, gingerbread man, Christmas tree, snowman, turkey, heart shape, and pig. Former gingerbread presentations have included movie scenes from Star Wars, Peanuts, Frozen, Despicable Me 2, and Harry Potter, and intricate models of a retro-styled rocket ship, Norwegian Viking ship, whimsical carousel, the Eiffel Tower, and the Empire State Building.
This year's gingerbread creation will be available for all guests to see in the Mountain Lodge starting December 4, 2020.
About Stein Eriksen Lodge
The World's Best Ski Hotel and Utah's only Forbes Five-Star Hotel and Spa, Stein Eriksen Lodge is one of America's premier resorts. One of the most accessible mountain destinations in North America, the Lodge provides guests with the ultimate year-round luxury destination, offering world-class hospitality, accommodations, fine dining, meeting facilities, spa services, recreation, and luxury Lincoln car services.