Where to Sip a Drink While Social Distancing in Park City
Are you looking for a bar with outdoor seating in Park City that serves a mean cocktail? Or maybe you're on the hunt for family-friendly breweries. While our cocktail scene might feel slightly different this year, your favorite Park City bars and restaurants are keeping the spirits alive by making sure we can imbibe while socially distanced. So, grab your mask and check out our top five picks for getting your drink on.
As regulations change around the pandemic, remember to call ahead or visit each restaurant's website to get the latest updates and information to have a successful and responsible experience.
1. Windy Ridge Cafe

1250 Iron Horse Dr., (435) 647-2906
Windy Ridge Café is where locals go to enjoy casual eats and regional brews. Away from the hustle and bustle of Main Street, you can knock back a few craft beers from local producers while experiencing breathtaking views. If you are in the mood for something stronger, Windy Ridge Café also serves up some killer seasonal cocktails. Their Orange Elderflower Mule combines Stoli Ohranj, St. Elder elderflower liqueur, and spicy ginger beer to deliver a delightful cocktail with impeccable flavors. Or try their Iron Horse Margarita featuring their house-made sweet and sour mix. If you're looking to avoid the crowds, make a reservation to secure a private spot ahead of time.
2. Red Rock Junction
1640 Redstone Center Dr., (435) 575-0295
Looking for award-winning beers, plenty of space to social distance, and an excellent place for the whole family? Red Rock Junction is the spot for you! Beer aficionados flock from all over to this craft brewpub to sip on some suds while hanging six feet apart with some buds. With many innovative brews and classic standbys, Red Rock's beer list is sure to please everyone. While you can't go wrong with a pint of their standards like the double IPA or Honey Wheat, their old-world brews are truly magical! Try the Lime Gose, a tart, herbaceous, and refreshing draft. If you are a fan of Belgian-style ales, the Biere de Mars is out of this world.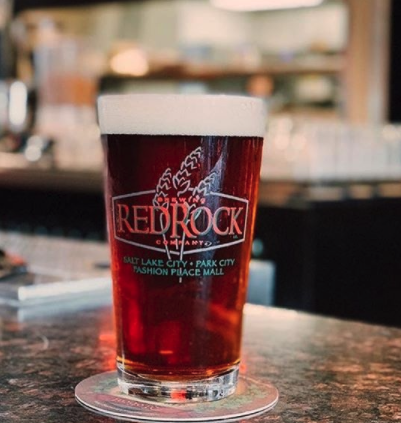 3. Silver Star Café
1825 Three Kings Dr., (435) 655-3456
Silver Star Café slings some of the best libations in Park City! Their cocktail menu bursts with unique takes on classic drinks, from horseradish heavy Bloody Marys to adventurous concoctions featuring rhubarb and rye whiskey. Their charming patio delivers 360-degree mountain views, so you can take advantage of Summit County's stunning scenery while grabbing a socially distanced cocktail. If you are searching for a place with elevated sights, look no further than Silver Star Café.
4. No Name Saloon

447 Main St., (435) 649-6667
For a 21+ crowd and no-nonsense cocktails, head straight to No Name Saloon. This local watering hole is quirky and a down-right good time. Their whiskey pours are stiff, their buffalo burgers are legendary, and their rooftop patio is heated year-round! Pre-COVID, you could expect the bar packed full of people, but with social distancing regulations in place, No Name Saloon takes every step to ensure there's plenty of room to enjoy a beverage responsibly.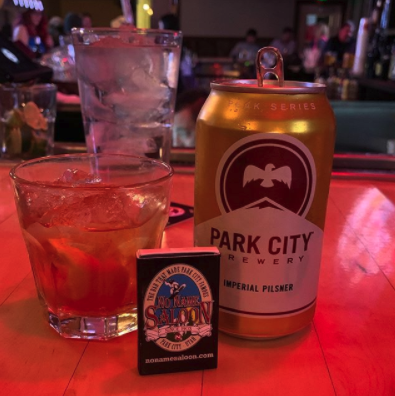 5. Drafts Burger Bar
3000 Canyon Resort Dr., (435) 655-2270
While it may sound like your average burger joint, don't let the name fool you. Draft's Burger Bar is as far away from a homespun dive as you can get. Picture an Alpine setting, wraparound deck, and elegant atmosphere. With over 50 beers on tap, an extensive wine list, and specialty cocktails, you can imbibe in style. While the setting is luxurious, it never feels pretentious or stuffy, making it one of Park City's favorite mountain spots to sip on a cocktail and relax away.
6. The Spur Bar & Grill
352 Main St, (435) 615-1618
The Spur is a local watering hole known for its comfortable atmosphere, live music, and regionally made craft spirits, including the in-house Spur Whiskey. If you're hungry, their menu includes the famous Spur Burger alongside a wealth of gourmet brick oven pizzas and other delectable mains. It's a great spot to enjoy a relaxing midday cocktail for two or catching an intimate weekend concert performed by Park City's favorite local musicians. Pro tip: Head out early to grab a socially distanced table.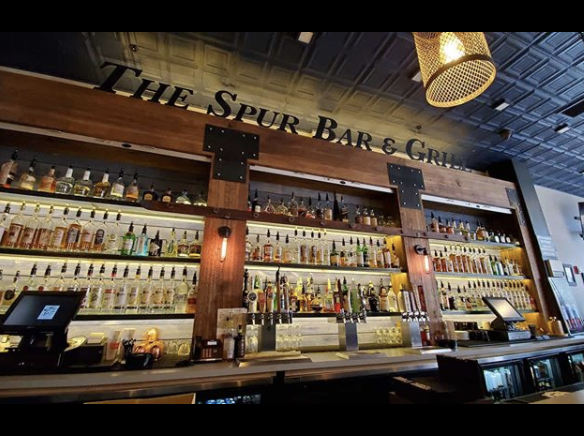 7. Boneyard Saloon & Wine Dive
1251 Kearns Blvd, Park City, (435) 649-0911
Boneyard is a unique place to enjoy a drink because it offers two terrific atmospheres in one setting to maximize your options. If you're looking for classic comfort food and local craft drafts, the Saloon is the right place for you. If you want fine wines on tap and small artisanal bites, head over to the Wine Dive. Alternatively, you can mix it up and try both! No matter where you land, we promise you and a friend will find something unique to drink.
The Best Bars in Park City
Whether you are looking for a local pub, a mountain escape, or Main St. fun, Park City bars have something for everyone looking to relax with a cocktail while social distancing. If you are interested in even more hot cocktail spots, visit our website and search for bars and restaurants in our area. Remember to call ahead to stay updated on any social distancing guidelines or capacity changes. Cheers!