Hearth and Hill
1153 Center Drive, Park City, UT 84098
Monday - Thursday: 12 pm to 8:30 pm Friday - Saturday: 12 pm to 9 pm Sunday: 10 am to 8:30 am
(435) 200-8840
Hearth and Hill
Offering a refreshing new dining experience to Park City's residents and visitors. The 192-seat restaurant, located next to Best Buy in Kimball Junction, features an innovative menu in a newly constructed, upscale-casual environment.
The menu highlights both local specialties and flavors from around the globe among its variety of savory dishes created by Chef Jordan. Shareables include Daily Gyoza, Hamachi Crudo, Spinach Artichoke Flatbread and Chicken Wings. Inventive salads such as Chilled Soba Noodle and Avocado are complemented by hearty Ramen and a seasonal soup of the day. Sandwiches and generous large plates include Beef and Veggie Burgers, Korean Fried Chicken, Utah Trout and bacon-glazed mushroom Filet. Truffle Mac and Cheese and Cheddar Biscuits are among the delicious side dishes. Delectable in-house desserts round out the experience, while a children's menu ensures guests of all ages leave happy.
The restaurant's full bar, equipped with big-screen TVs, serves draft beers and a signature make-your-own Old Fashioned complete with seasonal liqueurs and house-made ingredients. A spacious patio and 36-seat private dining room, each with a fireplace, are among the many seating options. Hearth and Hill, which offers live music and convenient free parking, will be open daily year-around for lunch and dinner, take-out included.
Info
Features
Takes Reservations
Full Bar
Patio/Outdoor Dining
Good for Kids
Take Out
Facial Masks Required
Dine-in Service with Social Distancing
Curbside pick up
Follow Hearth and Hill
Make a Reservation
DRAGONFLY RITA
MIXOLOGIST: Daisy Clark
Ingredients:
1.5 oz Rabbit & Grass Blanco Tequila
1.0 oz Alpine Preserve
1.0 oz Lime
.5 oz Agave
1-2 oz Golden Dragonfruit & Pitaya Smoked Jam
Rim glass with raw sugar. Drizzle dragon jam into rocks glass. Add large rock ice cube infused with mint and pitaya. Fill shaker with ice and add Rabbit & Grass Blanco Tequila, Alpine Preserve, lime, and agave. Shake hard for 8-10 seconds and strain into glass over large cube. Garnish with mint leaf and dried pitaya Serve with a straw to stir jam as desired. View Video
Dragon Jam Recipe
8-10 Dragon Fruit
8 cups Pitaya
4 cups Sugar
4 cups Water
Cut and prepare the fruit, removing the skin. Preheat Traeger Smoker to 160 degrees on a super smoke cycle (we used hickory flavored pellets but any variety would work great). Add all ingredients to a large pot and set pot on Traeger, stir frequently to dissolve the sugar. Smoke for 1-2 hours on the super smoke cycle, stirring frequently. Gradually increase temperature over the next hour to achieve a full simmer. Simmer 1-2 additional hours stirring frequently until 350 degrees is reached to fully infuse the smoke flavor. Cool and let set for 1 hour, strain if desired. Total prep time = 5 hours
Events & Specials at Hearth and Hill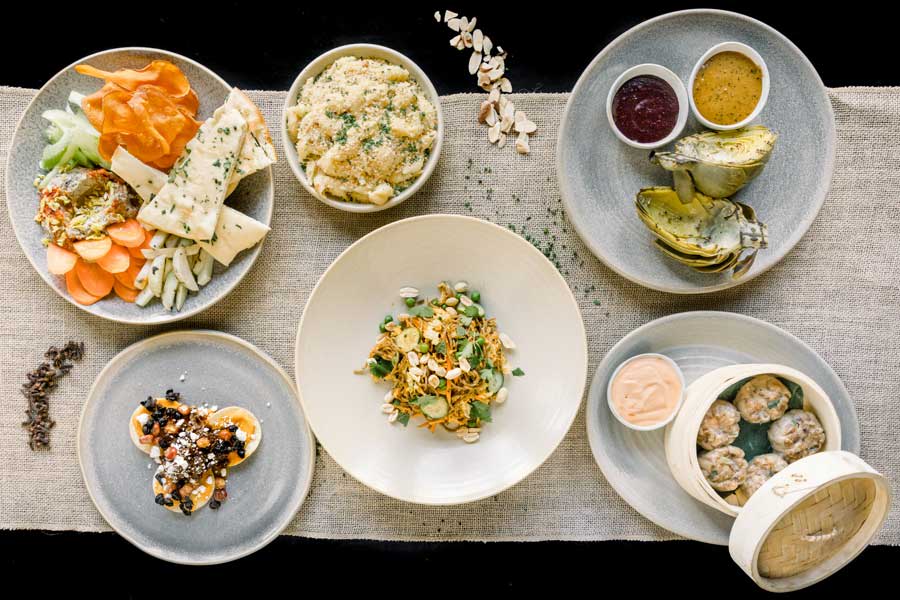 29 Oct
Special
Hearth and Hill has created a delicious special offer, when spend $100 you get $25 off!
Read More